Homeless grants
On occasion people present themselves homeless and are entitled to a grant to help get a deposit for a house.
Homefix
This scheme provides a minor house repair service to elderly people.
Repossessions
A very sensitive and mentally draining time for families who are faced with the prospect of losing their homes. I have assisted families through organising and meeting with financial advisors to discuss such delicate issues.
Private Housing Estate Management (Take in charge)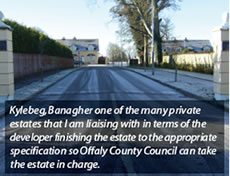 Some developers have failed to complete the estates to specification, leaving the residents in limbo. I am currently working in conjunction with the Council and residents in dealing with two estates in Kilcormac, one in Cloghan, one in Ferbane and one in Banagher. This is an extremely slow process but with persistence and patience I hope we can achieve our aim in getting the estates completed to the satisfaction of the residents and the Council.



Affordable Sites
In February 2010 I approached the housing section with a proposal to help sell affordable sites that belonged to Offaly County Council. Offaly County Council since then have wavered the majority of the terms and conditions that were associated with the sale of such sites. This is a significant development for any family who is in a position to acquire a fully serviced site at a substantially lower cost in areas such as: Meadows Land, Kilcormac; Banagher; Cluny, Ferbane; Cluain Fia, Clara and