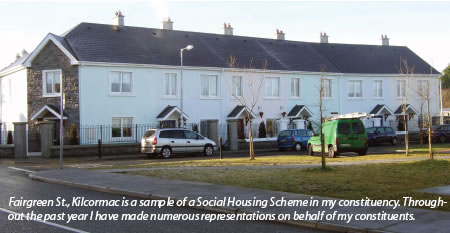 Allocation
I have made representations for my constituents in Kilcormac, Cloghan, Pullough and Banagher. This can be a long-term process depending on the amount of social housing available in an area and one that is very sensitive and needs complete attention to detail.
Maintenance Issues
On a regular basis I have made representation to the Council in order to highlight maintenance issues that needed to be addressed in social housing.
Transfers
It is extremely hard to get transfers unless you have over crowding or medical conditions that merits a transfer to appropriate houses to cater for such needs.
Council Loans/Buy out your house
Facilitated the public in acquiring and completed such documentation.
Social Housing Estate Management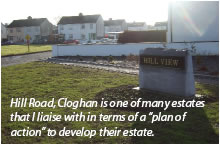 Currently I am working with Residents' Committees as follows: two estates in Kilcormac, one in Cloghan, two in Ferbane and one in Banagher. The Residents' Committees and I have created a plan of work which we hope will be completed in the coming years.